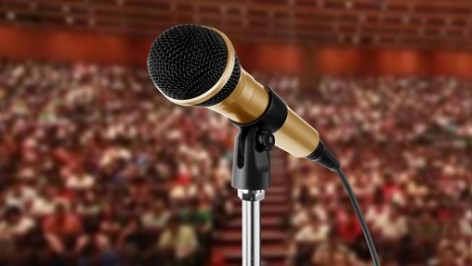 Giving a speech can be a nerve-racking experience. But with diligent preparation and careful thought in crafting out your speech, you can get a leg up on delivering a great speech. Want to know what it takes to write an effective speech? One that will not only grab your audiences' attention, but also leave them on the edge of their seats? Let's check it out.  
Craft a Memorable Opening
The start of your speech is when the audience is most receptive. So, seize that opportunity to create a memorable opening, as it helps to engage your listeners early. Tell a humorous anecdote that illustrates a key point in your speech. Share a shocking fact or statistic.
Focus on a Few Key Points 
Don't try to put too many ideas into your speech. Research shows that people remember very little from speeches, so stick to just two or three takeaways that your audience can bring back at the end of the day.
Write Like You Talk
Remember, you're writing a speech that people will hear, not an article for them to read. So adopting a conversational tone would make it easier for your audience to follow your speech. Use short sentences. It's better to write two simple sentences than one long, complicated sentence. Also, avoid using big words. Keep the language simple, like how you would when talking to someone.  
Repeat Yourself
Have you ever sat through a speech, and somewhere along the way your mind starts to drift off? We've all been there. In speech-writing, repetition is one of the keys to leaving an impression. Drive home key words, phrases and themes. Always look to tie back and reinforce earlier points in your speech. Repeating critical points can help your audience to remember key ideas.
End Strong 
The fact is, the concluding portion of your speech is what your audience will remember as they leave the room. So recap your biggest takeaway. Tie everything together. Share a success story. Make a call to action. End with a memorable quote.
So, keep these tips in mind when preparing for your next speech, and leave your audience spellbound.