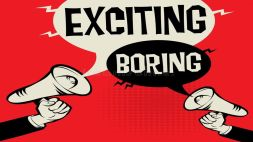 Let's face it, we're all guilty of using some words over and over again in our day-to-day written communication. Maybe it's due to a force of habit or something we've grown comfortable with. But it can get boring for your readers. If you're looking to change it up, here are alternatives to some of the most overused adjectives we all use.
Good
Using "good" is like drinking lukewarm water − it does the job in terms of keeping you hydrated, but it's just mediocre, bleh. Instead, try using alternatives such as "excellent" or "decent" in response to a text or question.
Important
This word has been used so much that its impact has been lost. If you want to ensure your readers' eyes don't glaze over, try grabbing their attention with descriptions like "essential", "critical" or "vital".
Interesting
We tend to use this word as a placeholder word − when we're unsure how to describe something or when another adjective doesn't come to mind. In lieu of this, consider using "captivating" or "thought-provoking" to indicate something that truly captures your interest.
Spice up your texts and emails with these strong, specific adjectives to encourage your recipients to take notice.
Reference: https://www.grammarly.com/blog/common-adjectives/?utm_campaign=B2C&utm_content=link_EY&utm_source=Facebook_org&utm_medium=social&utm_id=tNAFVAZcKDPBV1
Image source: https://www.dreamstime.com/illustration/boring-text.html